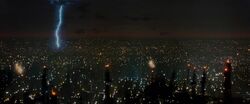 Los Angeles was a major city in the state of California.
Maurice Kolvig was shortly the governor of Los Angeles until his death in November 2019.[1] By 2029, Chen was the city's mayor until her death.[2] A group of lawmakers was employed by 2036.[3]
The city's chief law enforcement organization was the Los Angeles Police Department, which notably employed a Blade Runner unit.[4]
Los Angeles initially appears in Blade Runner. The novel it is adapted from, Do Androids Dream of Electric Sheep?, instead takes place in San Francisco.
Community content is available under
CC-BY-SA
unless otherwise noted.