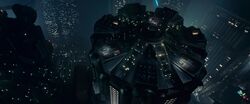 The Los Angeles Police Department (LAPD or LPD[1]) was a law enforcement agency located in the city of Los Angeles, California. The LAPD notably housed a Blade Runner Unit.
Overview
[
]
Function
[
]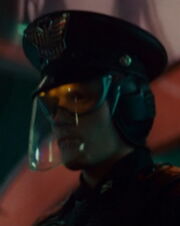 The LAPD had a standard system of operations as it aimed to protect the city, and sometimes the world, from both domestic and galactic threats. Officers patrolled and surveilled the entire city constantly every day to ensure city rules and regulations were followed and the citizens were secure. Officers use personalized spinners to hover around the city grounds in search of potential threats or strange activities.[2]
Blade Runner division
[
]
Beginning in 2009,[3] the LAPD notably housed and hired Blade Runners to retire defected or returning replicants from Off-world colonies. Blade Runners that worked for the LAPD operated differently than LAPD detectives or officers, working on an as-needed basis. When the LAPD received word of a defected replicant, their hired Blade Runners were called in to track down the replicants and retire them as ordered.[2]
Headquarters
[
]
The LAPD operated out of at least two buildings over the course of the 21st century. Around 2019, the LAPD headquarters building was a skyscraper with a circular edifice. The roof had a heptagonal layout with multiple retractible landing pads for spinners.[2] In 2029, this structure was attacked by a group of replicant revolutionaries led by Yotun. This attack left the building engulfed in flames.[4]
By 2032, the LAPD had moved to a different building with a rectangular design that culminated in a monolithic, inverted pyramid of featureless concrete. One face of the building was painted with "LAPD" in enormous, multi-story high letters. As with the LAPD's old headquarters, this newer building also had retractible spinner landing pads on the roof.[5] This building remained in use as of 2049.[6]
References
[
]
External links
[
]