Do Androids Dream of Electric Sheep?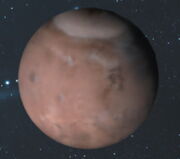 Mars was a planet occupied by humans as part of the United Nations-sanctioned colonization program. It contained several settlements, including New America.[1]
The factory that manufactured Nexus-6 brain units, a branch of the Rosen Association, and a drugstore run by Roy and Irmgard Baty were located on Mars.[1]
In early 1992/2021, a group of androids escaped Mars in a shuttle destined for Earth.[1]
References
[
]