Do Androids Dream of Electric Sheep?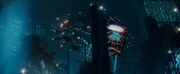 "A new life awaits you in the Off-world colonies. The chance to begin again in a golden land of opportunity and adventure."

―Advertisement
The Off-world colonies were human settlements outside of Earth, such as Calantha and the Dominguez-Shimata Colony.
History
The colonies had been settled by 2018 and employed the use of slave labor by replicants. That year, a Nexus-6 replicant combat team staged an uprising, prompting the ban of replicants from Earth.[1]
By 2019, humans on Earth were encouraged to emigrate to the colonies; this was promoted aggressively with advertising extolling the adventure and opportunities awaiting them if they left Earth, as well as promises of financial and personal incentives; for example, all colonists were promised a free replicant for their personal use.[2]
Ana Stelline's adoptive parents moved Off-world, leaving her behind due to her "compromised immune system."[3]
By mid-2049, nine additional Off-world colonies existed, which frustrated Niander Wallace, given that he wished to see humanity rapidly expand across the stars.[3]
Behind the scenes
The concept of Off-world colonies is based on the colonization program mentioned in Do Androids Dream of Electric Sheep?, where humans have settled other planets, such as Mars.
The actual conditions on these colonies are never shown in the films, but the setting hints that the situation Off-world is not as rosy as the advertisements claim. The replicants are designed to survive dangerous harsh labor and environments. Roy was designed specifically for use as a soldier, recalling the battles he fought Off-world, and it appears that Leon and Zhora also had considerable combat training. Zhora was described as having been a member of a kick-murder-squad. Finally, there is the intensity of the marketing campaign itself; although the Los Angeles of 2019 is a miserable dystopia, its population still apparently requires aggressive promotion and considerable financial incentives to leave for these supposed paradises.
A deleted scene notes that Rick Deckard's ex-wife left him for a man Off-world.
Gallery
References