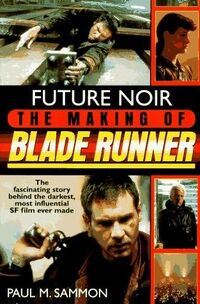 Paul M. Sammon (born 1949) is the author of Future Noir: The Making of Blade Runner and a 1999 book on Blade Runner director Ridley Scott.
He appeared in the 2000 TV documentary On the Edge of Blade Runner and the 2004 TV documentary Remembering the Future: Paycheck & the Worlds of Philip K. Dick.
Blade Runner is said to be one of his favorite films.
Prior to principal photography on Blade Runner, Sammon was commissioned by Cinefantastique magazine to do a special article on the making of Blade Runner. His detailed observations and research later became the book Future Noir: The Making of Blade Runner, which is also called the Blade Runner Bible by the cult following of the film. The book outlines not only the evolution of Blade Runner but the politics and difficulties on-set; particularly on Scott's expectations (coming from Britain) of his first American crew. Also, his directing style with actors created friction with the cast and likely contributed to Ford's subsequent reluctance to discuss the film.
Sammon has written for The Los Angeles Times, American Cinematographer, Cahiers Du Cinema and Cinifantastique. His fiction has appeared in many collections and he is editor of the best selling American Splatterpunks series. As a film maker Paul M. Sammon has produced, edited and directed dozens of documentaries on films such as Platoon, Dune and Robocop.
Paul M. Sammon's distinctive career can best be described by the film industry expression "hyphenate."
Sammon first entered the film industry as a publicist in the late 1970s, before moving on as a second-unit director, special effects coordinator, still photographer, electronic press kit producer, and Vice President of Special Promotions. Some of the scores of motion pictures on which Sammon has labored include RoboCop, Platoon, Blue Velvet, Conan the Barbarian, and Silence of the Lambs.
By the late 1980s, Sammon was working in Japanese television, where he coproduced popular entertainment programs like Hello! Movies for the TV Asahi network. By the 1990s, Sammon had served as Computer Graphics Supervisor for RoboCop 2; he recently was Digital and Optical Effects Supervisor for 1995's XTRO: Watch the Skies.
As a writer, Sammon has published numerous articles, short stories and books. His many film journalism pieces have seen print in The American Cinematographer, Cahiers du Cinema, The Los Angeles Times, Omni, Cinefex, and Cinefantastique.
Sammon's fiction has appeared in Peter Straub's Ghosts (1995), and he recently edited both the 1994 "dead Elvis" anthology The King Is Dead plus the "no limits" anthologies Splatterpunks: Extreme Horror and Splatterpunks II: Over the Edge (1995).
In addition to his book on Blade Runner and director Ridley Scott, he wrote a book, The Making of Starship Troopers (1997) about the making of the film and its director Paul Verhoeven.
See also
[
]