"An angel... made again. For you."

―

Niander Wallace
A clone of Rachael was created by Niander Wallace and offered to Rick Deckard to make him talk during his interrogation.
The clone approached Deckard and asked if he missed or loved her. However, he refused her, commenting that the real Rachael's eyes were green. The clone was promptly shot in the head by Luv.[1]
Behind the scenes
Edit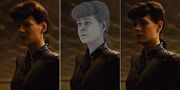 The clone of Rachael was codenamed "Rita" during production and was portrayed by three different actresses, in terms of body, likeness, and voice. Loren Peta stood in for the body, due to having a similar build and appearance to Sean Young, who coached Peta in her performance.[2]
In a task that took a year to achieve, the likeness of a youthful Sean Young was superimposed over Peta's through the use of CGI. The digital model of Young's head was based on photos and footage of the actress in the original film and other films she appeared in during the same era, such as Dune.[3]
Finally, to re-create Young's voice, an uncredited, similar-sounding actress was hired.[4]
References
Edit
Community content is available under
CC-BY-SA
unless otherwise noted.