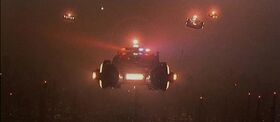 Spinner was a type of automobile used by the Los Angeles Police Department. It was utilized extensively by the police to survey the population and was capable of driving on the ground or flying in the air.
History
[
]
Your history isn't over yet. There's still a page left.


This article is a stub. You can help Off-world: The Blade Runner Wiki by expanding it.
Behind the scenes
[
]

The spinner was designed by Syd Mead, appearing in Blade Runner, Soldier, Blade Runner (1997), and Blade Runner 2049. It has been replicated in films such as The Fifth Element and the Star Wars prequel trilogy.
References in popular culture
[
]
The film Back to the Future Part II paid homage to the Spinner from Blade Runner in that a garishly repainted spinner can be seen parked in a driveway. A spinner car also rests on the Hill Valley Street during the hoverboard chase.
Another tribute to the Blade Runner spinner can be seen at various points in the Star Wars films Episode I: The Phantom Menace and Episode II: Attack of the Clones; the homage was made in part with regard to similarities between urban traffic of 2019 Los Angeles as portrayed in Blade Runner, and that of the city-planet Coruscant as depicted in the Star Wars prequel films.[1]
In the game Perfect Dark Zero, spinners can be seen in the skies over Hong Kong in the fourth level.
In the game Cyberpunk 2077, the Aerodyne Vehicle (AV) used by the wealthy population of Night City is a reference to the spinner.
In the game Need for Speed II, the Monolithic Studios course has a section referencing Blade Runner, which includes a spinner. In the game's PC port players can drive it upon entering a cheat code.
Gallery
[
]
External links
[
]