watch 02:21
'Blade Runner' Profile: Tannhauser Gate
Play Sound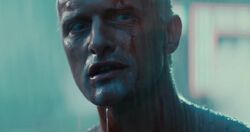 The Tannhäuser Gate was the location of a campaign in which Roy Batty participated, having "flown gypsy ships with the Russians" there.[1]
In November 2019, during his final moments, Roy recalled watching C-beams near the Tannhäuser Gate.[2]
Behind the scenes
In the 1982 film Blade Runner, the replicant Roy Batty (played by Rutger Hauer) refers to the gate while recounting his experiences as an off-world commando:
"I've seen things you people wouldn't believe: attack ships on fire off the shoulder of Orion. I've watched C-beams glitter in the dark near the Tannhäuser Gate. All those... moments... will be lost... in time, like... tears... in rain".
The Gate's name comes from a poetic piece written by Rutger Hauer, prior to the filming of his famous monologue in Blade Runner. Segments of this were then used in the scene.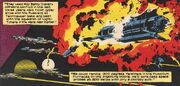 The Tannhäuser Gate is never described in any detail during the film, but the comic book adaptation adds a minor detail of Roy flying "gypsy ships" with the Russians.
In a deleted scene from the 1998 film Soldier (written by David Peoples as a "spin-off sidequel-spiritual successor" to Blade Runner), it was a warp station. The battle and Tannhäuser Gate itself are shown on-screen in one of the film's deleted scenes.
References in popular culture
References
Community content is available under
CC-BY-SA
unless otherwise noted.